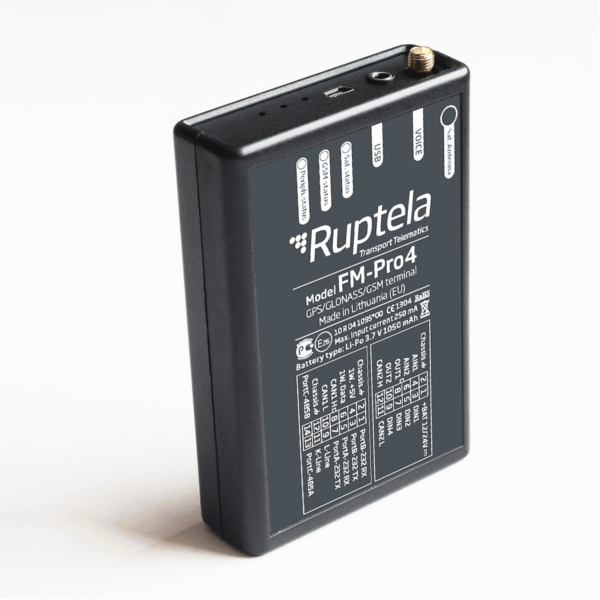 Ruptela FM-Pro4
Категорії: Equipment GPS-trackers Ruptela
Ruptela FM-Pro4 is an advanced GPS tracker designed for different types of heavy commercial vehicles. Device purpose is to track and monitor vehicle and its activity parameters. Despite the data provided by GPS tracking this device also obtains vehicles on-board computer
  Ruptela FM-Pro4 is an advanced GPS tracker designed for different types of heavy commercial vehicles such as trucks, agriculture, building and other special machinery. Device purpose is to track and monitor vehicle and its activity parameters. Despite the data provided by GPS tracking this device also obtains vehicles on-board computer (CANbus) data from FMS and J1708 standards.
Specifications:
4 Digital inputs
2 Analogue inputs
2 Digital outputs
CANbus
RS232 / RS485
1Wire
Internal GSM antenna
External GPS antenna
Built-in battery
  The device allows to implement wide range of fleet management tasks resulting in an absolute control over the fleet, operating costs reduction and increased efficiency.
Best used for:
Fleet monitoring and control.
Route and order optimization.
Fuel control and management.
Eco-Driving style implementation.
Temperature control.
  Due to RS232 and RS485 ports ability to work at the same FM-Pro4 can be connected with up 12 fuel level sensors ensuring the best fuel monitoring and control. Moreover this devices is equipped with 1-Wire interface that allows to install additional accessories related to vehicles safety and control improvement.