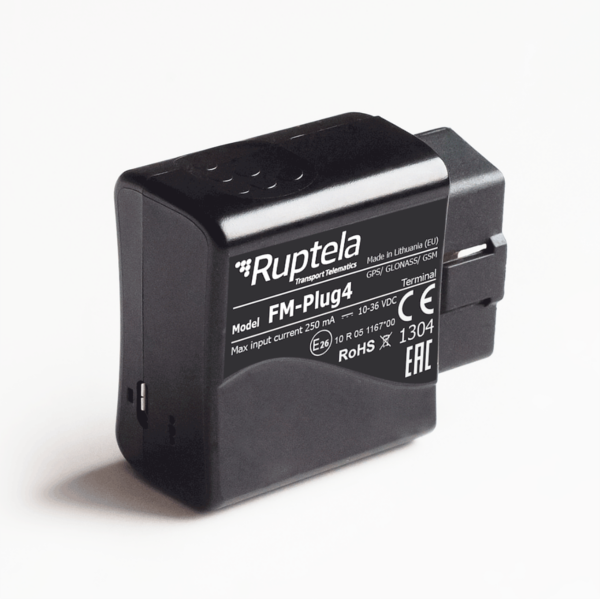 Ruptela FM Plug4
Категорії: Equipment GPS-trackers Ruptela
  Ruptela FM-Plug4 is a first generation low-cost, low power consumption, compact FM tracking device with easy pluggable OBD connector. It acquires its position by a GPS/GLONASS signal and transfers data to a server via GPRS cellular network.
  Ruptela FM-Plug4 is a Plug & Play type GPS tracking device that connects to the vehicle via an OBD II socket. Fast and simple installation eliminates installation costs and allows on-the-spot presentation of the device. By assigning each employee their own device, the driver instead of the vehicle can be tracked, and the device can then be used in different vehicles.There is no need to hire and train installers saving you on additional installation costs. Fast and easy installation also means that there will be no need to put vehicle out of operations for device installation.
Specifications:
OBD II Connection
Internal GSM antenna
Internal GPS antenna
1 SIM card
mini USB
  Possibility to preconfigure FM-Plug4 with SIM card and no need of specific knowledge to sell and install this device makes it very suitable for selling it directly to the end customers through mass channels.
Ruptela FM-Plug4 functionalities:
Vehicle location, history, mileage, speed monitoring
OBD data (FM-Plug4+ version)
Vehicle towing detection
OBD II engine error codes reading
Driver behaviour monitoring (Eco-Drive)
Internal Geozones.
This device is also available with an integrated battery – Ruptela FM-Plug4+ version.
  FM-Plug4 is a personal tracker that can be assigned to the single person. Therefore if company has less vehicles than drivers or if the vehicle is in repairs tracking will work without any interruptions as the device can be easily moved from one vehicle to the other.
  In case vehicle is stolen or device removed owner will receive an alert. Moreover an internal microphone allows to listen what is going on in the vehicle and to protect it even more. The same alert will be received if the vehicle is being towed, allowing owner to react immediately.
  FM-Plug4 can read OBD-II engine error codes and diagnose vehicle errors without expensive diagnostics. It saves time and helps to prevent vehicles breakdown.
  In case of losing connection FM-Plug4 can store up to 30000 records, and once the connection is established the device will send stored data via GPRS.